Right place, right time
Onsite security is there to protect your people, the public and your premises, but it can also safeguard business continuity and your organisation's reputation. Our Protective Services Officers are BSIA trained and accredited, including fire safety and first aid. They are a reassuring presence for staff and visitors but also a visible deterrent to anyone who might pose a threat.
Find out more about our onsite security services
Front of House Reception and Security
– STARS Security Trained Assistance and Reception Services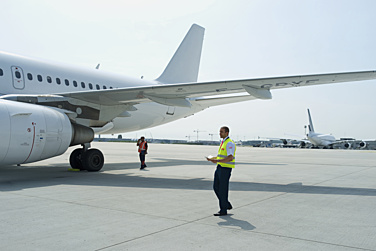 Aviation Security
Specialist services for airports, airlines and aviation-related businesses .
Canine services
Time to unleash the experts - the ultimate, high-profile deterrent .
Onsite security
People should feel as safe on your site as they do at home, and we can help make sure they do. With experience across a vast range of locations and business premises, we know the different threats that can arise, and our security personnel are trained to handle them. You can rely on us to reduce your risk and respond rapidly when required.